PM Home Station - 2017-2018
Home use particulate matter sensor
A DIY project to measure air quality at our homes.
The project provides instructions how to build low-budget and affordable measuring device, the applications for almost all platforms (desktop & mobile apps) and 3D printable enclosures.
Project page can be found on github
here
.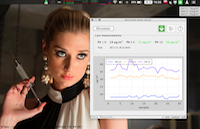 Onkyo DX-6810 retrofit TOSLINK - 2016
Retrofit optical output (TOSLINK) to Onkyo DX-6810
The project aimed to work out whether it is possible to add digital output to legacy CD player. A bit of investigation regarding CXD2500Q chip told me that it is indeed possible. The benefit of this modification is that one can use its own DAC to enhance and compare the quality of built-in DAC or to have almost a "CD transport" :)
Details with photos can be found
here
.